[new graphic] only a short while ago, the Great Wall car production pickup models has become the most recognized brand pickups, Feng Jun 3, fan Chun 5 and Kindil models are obtained the good market performance, it is not a few days or a few months formation, good reputation and high durability of the achievements of the the Great Wall pickup. A recent the Great Wall also launched a new model -- Feng Jun 5 European Edition, this model is in Feng Jun 5 based on changes to, have superior shape.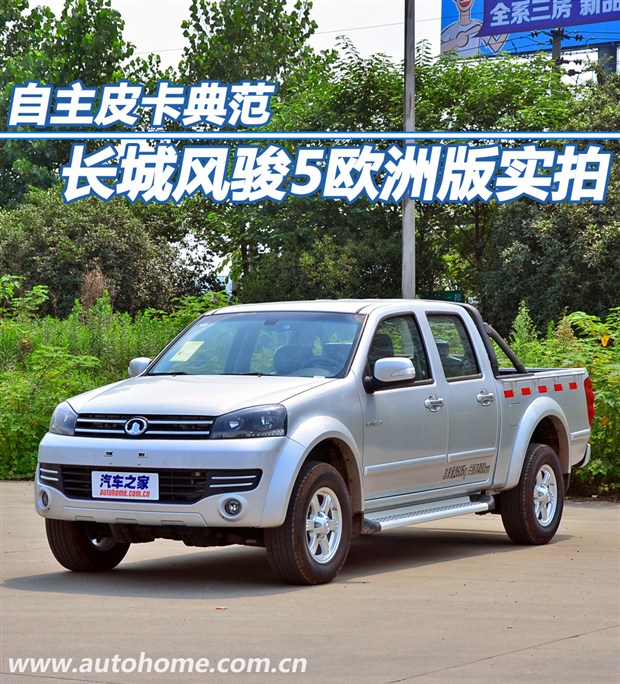 At present, Feng Jun 5 European Edition provides 2.0T diesel engine, 2.8T diesel and gasoline 2.4L three liter engine, including the pilot and elite two models sold in, and each vehicle is divided into drive and the two drive models, and divided into small and large double row, a total of 24 models. Our specific model of real models for Feng Jun 5 European Edition 2.4L 4WD elite big double (hereinafter referred to as Feng Jun 5 European Edition), which guide price in Chengdu area is 95800 yuan (due to regional differences, guide price around vary). Its beautiful appearance and ample space we will introduce below one one.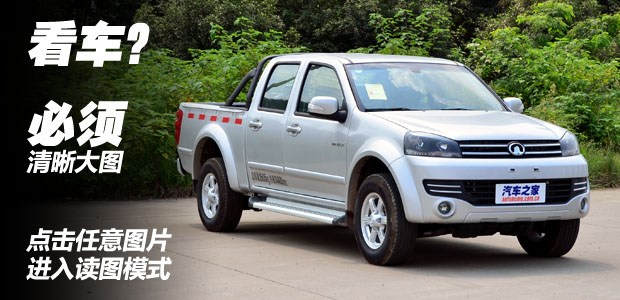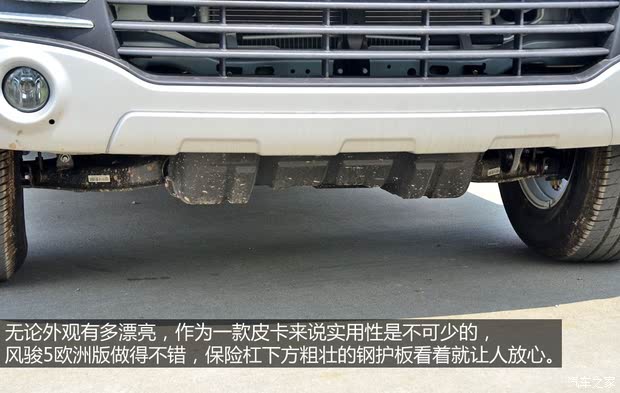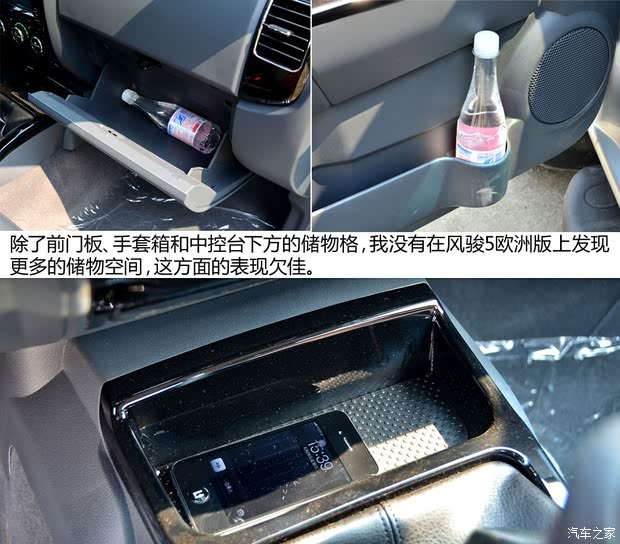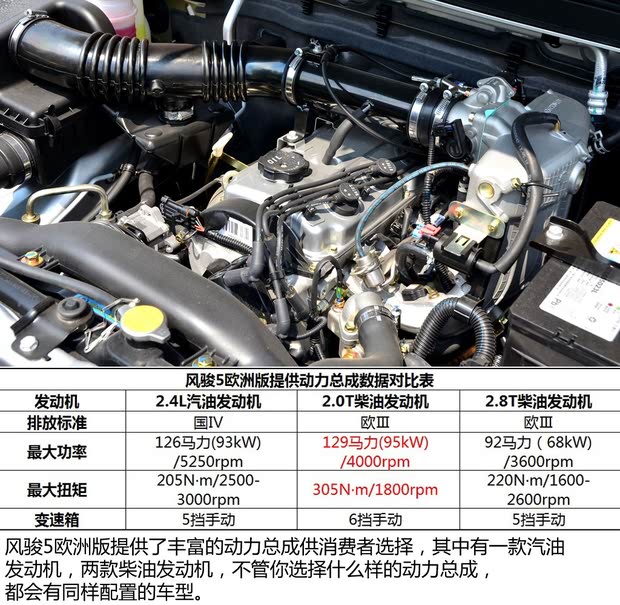 In terms of price, Feng Jun 5 European version of the 79800 yuan to 119800 yuan price range is more appropriate, 24 models for the different needs of consumers more choices. From a security considerations, I recommend you buy with airbag pilot version of the model, the configuration of main and auxiliary driving safety gasbag, GPS navigation system and headlight height adjustment, Elite Edition and a pilot version of the price is 14000 yuan, when the actual purchase should depend on how you look at your budget.
This article is not finished, the parameter configuration table next page and Feng Jun 5 European version more models. If you like Feng Jun 5 European version of the beautiful appearance and rich power matching, or its practicality touched you, want to buy it immediately, you can click here, after which there will be 4S shop staff contact with you, want to know more models offer and dealer information, you can also click here.
Related links:

Thank the following distributors to provide vehicle shooting:
Chengdu Jiacheng automobile sales and Service Co., Ltd. Tel: 4008688837 address: No. 288, industrial park in Chengdu High-tech Zone benefits the new avenue
> > car is no longer trouble Click to enter the car shopping channel
The basic parameter models Pictures Feng Jun 52013 2.0T Europe edition 4WD elite big double fan Chun 52013 2.4L Europe edition 4WD elite big double fan Chun 52013 2.8T Europe edition 4WD elite big double manufacturers guide price of 105800 95800 100800 national 4S the lowest price car the Great Wall automobile manufacturers the Great Wall the Great Wall automobile level low-end low-end low-end pickup pickup truck 2.0T 129 horsepower L42.4L engine of 126 horsepower L42.8T 92 horsepower L4 gearbox with manual block 6 and 5 speed manual manual block 5 length * width * height (mm) of 5390 * 1800 * 17305390 * 1800 * 17305390 * 1800 * 1730 body structure pickup pickup pickup maximum speed (km/h) - the Ministry of integrated fuel consumption (L/100km) - vehicle warranty for three years or 60000 kilometers in three years or 60000 kilometers in three years or 60000 km vehicle fan Chun 52013 2.0T Europe edition 4WD elite big double fan Chun 52013 2.4L Europe edition 4WD elite big fan Chun 52013 2.8T Europe edition 4WD elite big double length (mm) 539053905390 (mm) 180018001800 height width (mm) 173017301730 (mm) wheelbase 335033503350 front (mm) - rear track (mm) --- minimum ground clearance (mm) 194194194 mass (kg) - body structure pickup pickup pickup door number (a) 44 4 seats (a) 555 rear door opening door door door tank volume (L), container size (mm) 1680x1460x4801680x1460x4801680x1460x480 maximum load quality (kg) - Gearbox fan Chun 52013 2.0T Europe edition 4WD elite big double fan Chun 52013 2.4L Europe edition 4WD elite big double fan Chun 52013 2.8T Europe edition 4WD elite big double referred to as manual block 6 block 5, manual manual block 5 block number 655 gear box type manual transmission (MT) manual gearbox (MT) manual gearbox (MT) chassis to Feng Jun 52013 2.0T Europe edition 4WD elite big double Feng Jun 52013 2.4L Europe edition 4WD elite big double fan Chun 52013 2.8T Europe edition 4WD elite big double front - drive mode 4WD front drive 4WD front suspension type front double wishbone independent suspension with double wishbone independent suspension with double wishbone independent suspension rear suspension type steel plate spring plate spring plate spring type hydraulic power hydraulic power hydraulic booster vehicle structure of non bearing non bearing non bearing wheel brake fan Chun 52013 2.0T Europe edition 4WD elite big double fan Chun 52013 2.4L Europe edition 4WD elite type Double fan Chun 52013 2.8T Europe edition 4WD elite big double front brake disc type ventilation ventilation type ventilated disc brake type drum drum drum front tire specifications of 235/70 R16235/70 R16235/70 R16 235/70 R16235/70 R16235/70 R16 tire specifications of the engine fan Chun 52013 2.0T Europe edition 4WD elite big double fan Chun 52013 2.4L Europe edition 4WD elite large double fan Chun 52013 2.8T Europe edition 4WD elite big twin engine model GW4D20B4G69S4NGW2.8TC engines (mL) 199623782771 (L) 2.02.42.8 emissions intake form turbo naturally aspirated turbocharged cylinder arrangement form of LLL number of cylinders (a) 444 valve per cylinder number (a) 444 compression ratio - gas distribution mechanism of unknown SOHC diameter (mm), stroke (mm), maximum horsepower (Ps) maximum power of 12912692 (kW) 959368 maximum power speed (RPM) of 400052503600 maximum torque (N m) 305205220 (RPM) 1800-28002500-30001600-2600, maximum torque speed diesel fuel form of gasoline and diesel fuel No. 0, No. 93 (Beijing No. 92) No. 0 oil way Di multi-point EFI direct-injection engine cylinder aluminum aluminum aluminum cylinder block material iron iron iron environmental standards in Europe III IV European III safety equipment Feng Jun 52013 2.0T Europe edition 4WD elite big double fan Chun 52013 2.4L Europe edition 4WD elite big double fan Chun 52013 2.8T Europe edition 4WD elite type double row of master / deputy driver's seat airbag, vice principal, principal /, / vice principal, vice, 10 / front / rear side airbags, engine electronic anti-theft son ● ● ● ● ● ● vehicle lock remote control key ● ● ● control configuration Feng Jun 52013 2.0T Europe edition 4WD elite big double fan Chun 52013 2.4L Europe edition 4WD elite big double fan Chun 52013 2.8T Europe edition 4WD elite big double ABS anti-lock ● ● ● brake force distribution (EBD/CBC) ● ● ● brake assist (EBA/BAS/BA) - traction control (ASR/TCS/TRC), vehicle stability control (ESP/DSC/VSC) - external configuration Feng Jun 52013 2.0T Europe edition 4WD elite big double fan Chun 52013 2.4L European version four flooding elite big double fan Chun 52013 2.8T Europe edition 4WD elite type double electric sunroof, panoramic sunroof - aluminum alloy wheel hub ● ● ● internal configuration Feng Jun 52013 2.0T Europe edition 4WD elite big double fan Chun 52013 2.4L Europe edition 4WD elite big double fan Chun 52013 2.8T Europe Edition 4WD elite big double leather steering wheel, the multi-function steering wheel ● ● ● Cruise - after reversing radar ● ● ● reverse video - driving computer screen - seat configuration Feng Jun 52013 2.0T Europe edition 4WD elite big double fan Chun 52013 2.4L Europe edition 4WD elite big double Feng Jun 52013 2.8T Europe edition 4WD elite big double leather / Suede seats ● ● ● seat height adjustment, adjustment of the lumbar support - drive electric control - second rows of backrest angle adjustment, second rows of seats mobile - heated front seats, rear seats recline - the front seat armrest ● ● ● multimedia configuration Feng Jun 52013 2.0T European version the 4WD elite big double fan Chun 52013 2.4L Europe edition 4WD elite big double fan Chun 52013 2.8T Europe edition 4WD elite big double GPS navigation systems, console color large screen ● ● ● on-board television - the rear LCD screen, an external sound source interface (AUX/USB/iPod) ● ● ● multimedia system. Lighting configuration Feng Jun 52013 2.0T Europe edition 4WD elite big double fan Chun 52013 2.4L Europe edition 4WD elite big double fan Chun 52013 2.8T European version The 4WD elite big double xenon headlamps, front fog lamp ● ● ● headlight height adjustable - glass / mirror Feng Jun 52013 2.0T Europe edition 4WD elite big double fan Chun 52013 2.4L Europe edition 4WD elite big double fan Chun 52013 2.8T Europe edition 4WD elite type double row before / after electric car window. ● ● after before / after / before / after ● ● ● ● ● ● rearview mirror electric control rear-view mirror heating, rear windshield shade - rear side curtain air - rear wiper - Jun 52013 2.0T Europe edition 4WD elite big double fan Chun 52013 2.4L Europe edition 4WD elite big double fan Chun 52013 2.8T Europe edition 4WD elite type double air conditioning control manual manual manual ● ● ● rear independent air conditioning, a rear air outlet temperature control - - partition
Relate Posts:
Leave a Reply